sooo i was bored today and tried something different as i have just ordered my new euro front plate i wanted the license somewhere else so that i dont get a ticket for no front plate. there are toonns of diy on how to do this but this is how i did it hope u enjoy
List of Materials needed
1x OEM Tow hook
1x license plate
1x 6x6in peice of sheet metal
4x 1/2 in machine screws
2x 1in machine screws
6x small flat washer (big enough to cover holes in license plate)
6x split washers
6x nuts for machine screws
List of tools
Tin snips(or something that can cut sheet metal)
screw driver
nut driver or appropriate size wrench
drill
1/8 inch drill bit
ok after you have rounded up all those materials heres what u want to do first:
1.) place your license plate on the sheet metal and mark where all four holes are
2.) draw out an X pattern on the sheet metal leaving 1/2inch of material on either side of the hole marks.
3.) once you have that done measure 6 inches out from the center of the X on either side and make a mark these will be your mounting flaps.
4.) draw in a inch wide flap on either side of the x 6 inches long.
After you have traced out all the stuff you need start cutting it out with the tin snips make sure that you dont over cut or the integrity of the sheet metal will diminish
after you have cut out the x pattern with the 2 flaps you need to drill the spots where u marked the holes eariler.
when your done drilling the four holes for the license plate take the two tabs and bend them up and in.
using your tow hook as a guide slide it inbetween the 2 flaps and mark 2 spots where you want to put screws in to hold it in place.
after you have drilled the last 2 holes start putting your licesne plate holder together using the machine screws you bought the 1/2 in screws on the license plate and the 1 inch screws on the tow hook.
after your all set and done your holder should look something like this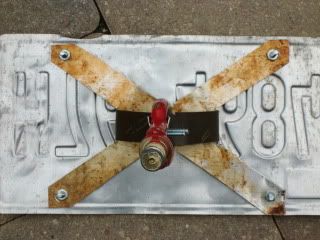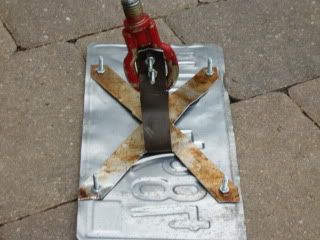 here it is mounted on my car.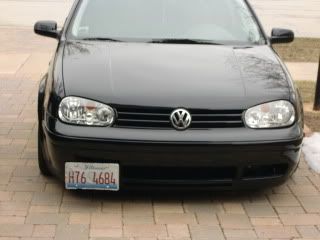 now go have urself a nice cold one and admire what you have just done